The Interim Meeting of the Joint Action on Tobacco Control (JATC) took place on February 6-7, 2019 in Brussels, with the presence of members of the Subgroup on Ingredients and Composition of Tobacco and Related Products. More than 60 JATC participants from all over Europe had the chance to meet in person in the DG SANTE headquarters and discuss thoroughly about the progress and plan future actions of the project.
Mrs Thea Emmerling, Head of the Cross-border Healthcare and Tobacco Control Unit and other officers of the DG SANTE and CHAFEA honored the meeting with their attendance, reflecting the importance of the project.
The objectives of the meeting were defined as follows:
To provide an update on the tasks performed, the milestones and key deliverables in the presence of regulators from the Member States;
To update on the upcoming work and to plan the actions of the next 12 months;
To facilitate interaction between JATC partners and the members of the Expert Subgroup on Ingredients.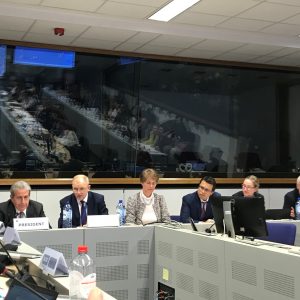 Mr Vytenis Andriukaitis, EU Commissioner for Health and Food Safety, participated at the opening session. In his speach, among other, he stressed importance of the JATC, better application of EU law and importance of  implementions of  new measures concerning product composition that were introduced by the Directive.
Find below the speech of the Commissioner.
https://ec.europa.eu/commission/commissioners/2014-2019/andriukaitis/announcements/speech-commissioner-health-and-food-safety-vytenis-andriukaitis-joint-meeting-joint-action-tobacco_en